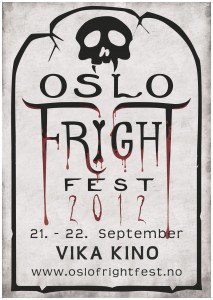 ** Edited 18.09.12: **
Oslo Fright Fest has been postponed. New dates will be announced later, within a month or two.
The second edition of Oslo Fright Fest will be held at Vika Kino this year. This means 3 movie theaters ram packed with horror, gore, sci-fi and madness. Yay! Can't wait!
I've seen a couple of the movies they will be screening, like Army Of Darkness, Hora and Livide.
Livide is a beautiful yet quirky little movie, made by the directors of Inside (a really gruesome French home-invasion movie. If you haven't seen Inside – shame on you!) Check out the trailer for Livide here, if you dare

And check out the complete list of movies here. I'm really looking forward to Dredd, Excision, Inside The Whore and watching Livide on a big screen!
See ya there?